Screenshots
Links
The default look
The default ROX look, with the xfwm4 window manager and the default GTK theme. Several ROX-Filer windows are open, in various styles. Shot by Thomas Leonard.
The drives icons are Andrzej Borsuk's (local copy).
ROX-Filer's view modes
ROX-Filer can display files with different view modes : big list view, normal list view, large icon view, mini icon view, and icon with image preview (note that all view modes can have image preview). Desktop icons and background image on these screenshots are managed by ROX-Filer (see the --pinboard switch in the manual).
ROX-Filer and FVWM.
This is my current setup, ROX-Filer2 (CVS) and FVWM 2.5.10-r6 (Gentoo),
I have many more desktop snapshots in my website,
Desktop snapshot by Nuno Alexandre,
AlienROX Desktop
Same setup as the above description,
Lorienjrr
Various icons including Rox, slick, and Crystalsvg. I use two screens and it's a little eyecandy happy but useful I find.

Bluecurve
Red Hat's Bluecurve icons displayed in the RISCOS-style of no application menu bars.

Fallout
ROX in combination with openbox, using a variety of icons, a themed gtk and a background by Interplay. Shot by comotion.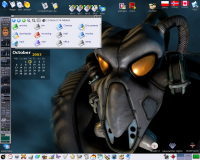 Alternative filesystem layout
Shot by Guido Schimmels.

The RISC OS theme
This desktop is using the sawfish window manager with the sawfish-riscos theme. The background is generated by XPlanet and updated every 10 minutes.
Shot by Stephen Watson.

The Gorilla theme
ROX using sawfish window manager with mxflat theme, gtk with gorilla theme (using industrial engine) and jimmac's svg Gorilla icons. Shot by Cyrille Mars.

pldconf default pulpit
Combination of windowmaker, freeiconsproject and rox. This is the default pulpit set by pldconf program that configures PLD Linux.

ROX and FVWM 2.5.x
Combination of FVWM (with a selfmade theme), ROX and marble-icons from KDE-Look.org.

NOX Theme
ROX-Filer under Metacity with custom GTK2 & Metacity window border themes. This screenshot also uses a custom set of Mime icons, based upon the Noia theme.
Both of these can be downloaded from my home page. From Chris Shaffer

Video thumbnails
Screenshot of CVS ROX-Filer showing thumbnails of videos using the ThinIce GTK2 theme and mxflat Sawfish theme.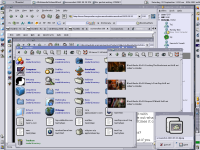 ROX Filer with running under Pekwm.
More shots on homepage: www.orderinchaos.org
NOX theme with XFWM4 and ROX Panel
Screenshot of CVS ROX-Filer showing ROX panel (right) using a variety of applets and several filer windows. From Matthew Weier O'Phinney.
ROX-Filer and Openbox 3
Screenshot of ROX-Filer (NOX theme) and Openbox 3.0 rc3. From Marcelo Ramos.

ROX-Filer & Icewm
Screenshot of ROX-Filer (Default theme) and Icewm From Tof

Screenshot of ROX-Filer (Default theme) and Waimea From Tof


Other screenshots from Tof can be found here.
ROX and Sawfish (SheeN)
Screenshots of ROX-Filer and Sawfish from Rahsheen Porter.

ROX and windowmaker
Screenshot of ROX-Filer (2.x) and windowmaker (CVS) from Jens (
http://www.jan0sch.de)

ROX and windowmaker (?Blue Steel and Kate)
Screenshot of ROX-Filer (2.1.12) and Window Maker 0.80.2, showing panel and pinboard management, and tons of dock icons with XMMS.
The famous (and gorgeous!) Kate Winslet is visible in the background. From Kronoman (kronoman@never_spam_me_or_I'll_get_angry.avengingangel.us)
ROX-Filer & Icewm
Magmatism's desktop.


1280x1024 JPG, 800x640 JPG,
1280x1024 PNG, 800x640 PNG
My desktop features Icewm theme TrueCurve (theme modified; also, Icewm has been patched to allow borderless buttons), GTK2 theme "Xfce-curve", Rox Trashcan (icon modified), Rox Video Thumbnailer, Icons from Foood's iCandy XP, Wallpaper from Digital Blasphemy
GUI components
There are shots of various different details of the interface here:

ROX & XFWM4/OroboROX & GDesklets
My ROX-Desktop showing the ROX-Panel with ROX-Menu, Pager, Tasklist, ?System Tray, etc. and two ROX-Filer-Windows (Icons: Noia/Noia Warm).
The first shot shows my configuration with XFWM4 (the windowmanager of the XFCE-Project), the second with OroboROX. You can see that they look nearly the same, but OroboROX runs a bit faster than XFWM4 on my machine. On http://www.simondkalb.de/rox/ you can find the Wallpaper, Icons and Themes I used for my desktop. Please contact me If you have any other questions: Simon Templer
Rox + Ion
A combination of rox session and the ion window manager. So far my favourite session and my favourite WM, but not sure yet how compatible they are together. Shot by Ben Cawkwell
ROX and OroboROX again

OrobROX with Xaguar Theme, gtk2-Theme Anianian (all SVG, with a few handmade extra icons to fit the style) and most of the icons you can see here are the beginning of a new ROX-SVG icon theme.
ROX on Enlightenment
Here's a shot of ROX-Filer and ROX Panel running on the Enlightenment WM (0.16.8) using the Winter theme. It includes the E pagers and E Iconbox and the ROX System Tray. Running are ROX clock,Calendar and Session applets, the eRSS news feed, KDE's kopete chat program, evolution is in Window 4, Eterm is minimized.
Gentoo+OroboROX+ROX-Filer
Shot by naturalgoo@gmail.com


(768Kb)
Here's a world's first, people!

It's Rox on the Compaq iPAQ Pocket PC running Familiar Linux!
Basically, I customized it so that I could get Metacity, fbpanel and Rox working..
Any questions about this? E-mail ZbxhfhXha@PhReAkEr.net
Links